We Sell Slate Roofs From Around The World





Slate Hill: A leading distributor of slate roofing materials.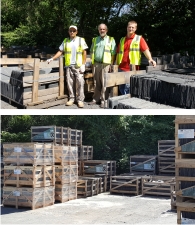 For over 30 years The Roof Center has been a leading distributor of slate roofing materials through their Bethesda, Maryland location. Over the years the large stocking yard of slate expanded to the back of the location on a hill. The branch was forever referred to as "Slate HIll".

We have one of the largest inventory of roofing slate, recycled slate, synthetic slate and accessories in the entire country. Many customers will visit us to view samples up close when deciding on a color and style that is right for their project.
If you are looking to purchase slate roofing materials for your next project, contact us at (301) 656-9231 or slate@roofcenter.com for a free quote.


We Sell Synthetic Slate From Leading Manufacturers