Buckingham-Virginia Slate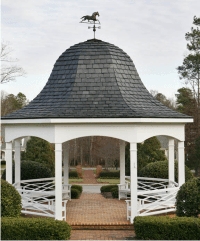 Produced in Buckingham County, near Arvonia, Virginia this famous roofing slate is quarried from natural stone of exceptional enduring qualities and proved its permanent nature by continuous use on roofs for over 150 years without signs of fading or decay. Buckingham-Virginia Slate is assurance to architects that their buildings will receive lifetime protection, and that the beauty which they build into the structure will be preserved.
Being rich Blue-Black (sometimes called Oxford-Grey) in color, Buckingham-Virginia Slate has the strength of color necessary for architectural contrast and the dignity desired in fine buildings. The color is unfading and can be matched at any future time.
Buckingham-Virginia Slate is one of the hardest slates in the world. The slate's resistance to wear along, with its' distinct identity and beauty of the natural cleft face, have made this unfading slate highly popular. When durability and low maintenance cost are considered, Buckingham Slate is a very practical choice .
Buckingham-Virginia Slate Photos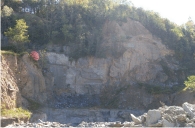 Buckingham Quary
Click image to enlarge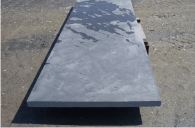 Unfinished Slate
Click image to enlarge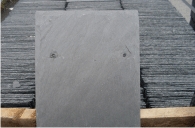 The Finished Product
Click image to enlarge
Features and Benefits
Protection from the elements for the life of the building.
Natural beauty and lustre that will not fade.
No costly repairs.
No ultimate replacement.
Higher resale advantages.
Higher salvage value.
Can be matched after any length of time.
Fire protection.
Insurance and loan advantages.
Lowest average absorption of any slate in America.
Highest resistance to acids of any slate in America.