GAF TruSlate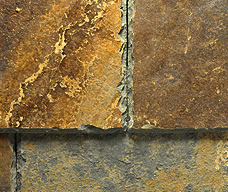 TruSlate is an affordable, high quality slate roofing system by GAF Materials Corporation. This patented system combines genuine hand-split slate and an innovative installation procedure to produce attractive and enduring slate roofing at a significant cost and weight savings.
With traditional slate roof installations, shingles overlap, leaving a significant portion of the slate covered and invisible. The TruSlate System eliminates overlapping, using a stainless steel hangar and batten system to lock slates into place and UnderBlock™ UV and Moisture Barrier to protect against moisture intrusion. This process not only reduces the number of shingles; it lowers material costs and removes excess weight from the roof. Removing the excess weight can reduce costs further by reducing the need for structural modification.
The TruSlate system from GAF can make your dream of owning ­a genuine slate roof a reality. The TruSlate system features:
Real hand-split quarried slate


(not a synthetic imitation)


An ingenious installation system


(that typically eliminates the expensive structural modifications that old-fashioned slate requires)


An affordable price


(often comparable to the cost of the cheap imitations)

GAF TruSlate Photos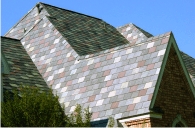 TruSlate Blend
Click image to enlarge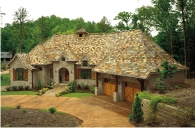 100% Sunset
Click image to enlarge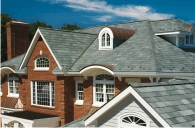 100% Mystic Grey
Click image to enlarge
Available Color Options
Onyx Black


Onyx Black slates can add a dramatic contrast to any home. The subtle variations in tone create a truly understated elegance.

When selecting this (or any) color, be sure to see samples under different lighting conditions. The reflective properties of Onyx Black slate tend to produce a lighter appearance in direct sunlight and darker shades in afternoon and evening light.


Sunset


Sunset is a unique,naturally occurring blend with a broad spectrum of colors. Individual slates may vary from grey to beige, gold, and rust. All of these colors combine to create a beautiful mosaic of warm earth tones.

Besides being one of our most popular colors, Sunset is also a rare combination that you can't get from most other slate suppliers!

Greystone
Greystone is a traditional color with a range of medium grey tones. It's a beautiful color on its own or is a perfect complement or accent to any blend of slate colors.

Greystone works well with many exterior color schemes. It is especially suitable for those who are seeking a low-contrast, neutral grey roof. Also, full sunlight tends to make Greystone look much lighter due to its reflective nature..

Mystic Grey
Mystic Grey is a medium to dark warm grey slate with a unique random pattern of green "mist" on some pieces.

Mystic Grey complements most architectural styles and serves as a perfect base slate for blending. Compared to Greystone, Mystic Grey tends to have more contrast, as well as a somewhat greenish tint.

Eco Green


Eco Green is a slate with a variety of greenish tones which include green, blue-green, and yellow. The result is a roof with a varied, elegant look.

Like all of the colors depicted in this catalog, the look of Eco Green is affected by the amount and type of sunlight that hits the roof.